FAAC SIRIUS AWARD
Beginning in 2009, the FAAC Sirius Award -- for the brightest star in FAAC community -- is awarded annually to one FAAC member who has been nominated by the FAAC membership for his/her extraordinary efforts in supporting our Ford Amateur Astronomy Club activities throughout the year. At the end of the year, the nominations are reviewed by the FAAC Board and the most deserving individual is selected to receive the award at the annual FAAC Banquet.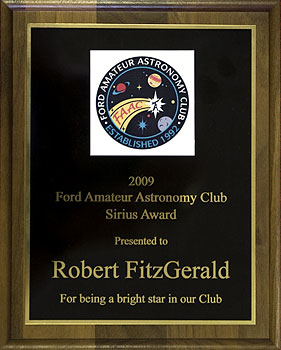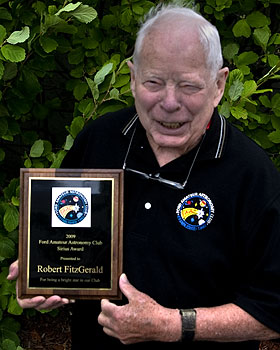 The 2009 SIRIUS AWARD receipient, Bob FitzGerald, was selected based on his participation in Board meetings, participation in many outreach activities, his parliamentarian guidance, manning the FAAC Hotline, serving as the equipment manager, and for his keen interest in the education of young people in all things astronomy.
---
Return to the F.A.A.C. Home Page.
Home
Previous Page

Club Information
Observing Sessions
Newsletter

Current Attractions
What's New
FAQ

HJRO Observatory Project

Astro Photo Albums

GOING TO MARS!

Other Links
Web Site Updated:
February 25, 2012 3:57
Webmaster: Greg Ozimek
With thanks to Doug Bock